Browsing articles in "Uncategorized"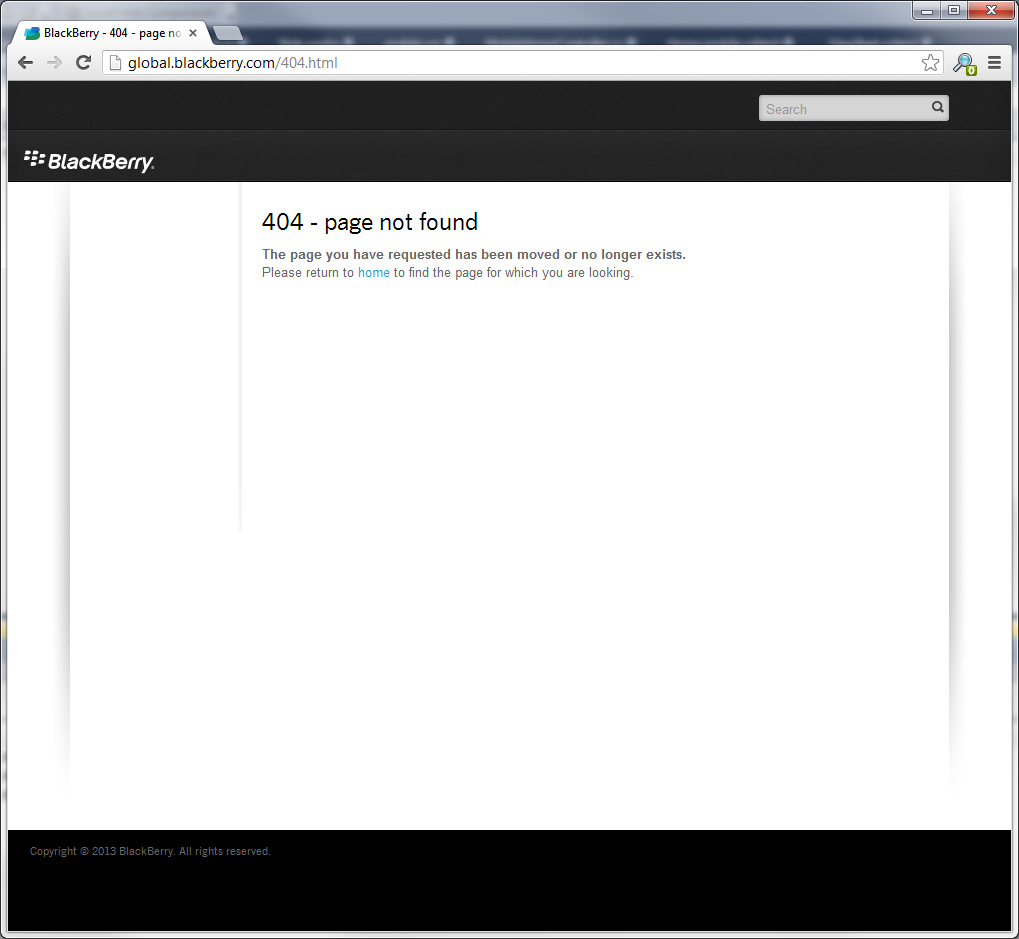 That's how I thought it was going to be, full of their new Z10 and Q10 mobile specs, showing the new Blackberry 10 features…. but all I got was a 404 Page not found message!! Don't know if it only loads for non US users, i.e. maybe for Europeans only.
But please BlackBerry, on your biggest launch ever, you should have made sure that everything works fine, including one of your most important marketing options, your website!!
If you're using CrashPlan for your online backup, and got the following message "Connecting to backup destination" (I have been receiving this message for the last week), the solution to start backing up again is the following:
Open Local Services
Find "Crashplan Backup Service"
Right Click > Stop
Wait till the Status is blank (not Running)
Right Click > Start
And voila, CrashPlan will start backing up again.
We just got news and found who is the first person to buy the upgrade to Windows 8 in Malta. His name is Kurt Borg! We'll get more updates on this exciting news soon.
Update: We've found the alleged person's profile picture in Google Images.
Update 2: We just managed to get in touch with Kurt Borg and asked him some questions which are very relevant to Windows 8: Continue reading »
In jQuery you have multiple selectors to either select single objects or a whole bunch. I needed to select an image by its alt tag, and guess what, there is also a selector for alt tags. You need to do the following:
$('img[alt="My Alt Image"]')
I needed this so that I could change the class and set the selected image as active, by searching the alt tag as below:
$('img[alt="My Alt Image"]').addClass('.active');
Something else that might be useful is to revert the active image, to a normal image. Instead of using the alt tag this time you can use the 'active' class selector as below:
$('.active').removeClass('active');
Hope this was of help. Buon selectoring

So this is a quick post, but I'm always forgetting the exact sizes for Facebook's Cover Photo and Profile Pictures.
Cover Photo Dimensions
This is easy, one size and remains the same. Cover Photo dimensions are 850 by 315 pixels.
Profile Pic Dimensions
The Profile Pic must be 200 by 200 pixels, with the visible area being 176 by 176 pixels. When you view your profile pic on Facebook, it is viewed as 125 by 125 pixels.
In less than an hour, Microsoft will show off its latest preview of their new operating system, Windows 8. It will be unveiled in a Press Conference at the World's Premier Wireless Show, MWC 2012, in Barcelona (ehh wish I'm there :] ). By using the word "Consumer Preview" instead of "Beta" Microsoft is emphasizing that this OS is ready for everyday users to try on their PCs and tablets (ps. no ARM tablets for the moment). Continue reading »
When you create a table in SQL Server, you would also have an Identity Primary Key. This type of key would increase as new rows are added. But sometimes you would just need to delete all the rows and start all over again.
To restart the identity column, you could delete the column and re-add it again. This would normally work, but if you have relations with the primary key, you wouldn't be allowed to delete it.
The next code that will make this possible, and restart the Primary Key from 0, thus the new row will be set as 1: Continue reading »
Tomorrow I'm off to London for a small holiday… Will try to write some posts if I find internet in a bar

… anyway… see you next Tuesday… London here we come!
Open FileZilla program.
Go to File and select Site Manager
Click the New Site button and start entering your ftp hosting details:

Host: enter the hostname (ex. ftp.mydomain.com, ftp://ftp.mydomain.com, ftp://www.mydomain.com)
Port: usually it is port 21
Server Type: FTP
Logon Type: Normal
User: your username that you specified in the GoDaddy Hosting
Password: your account's password of the username specified in "User"

Next just click connect You're now being connected to your ftp account
Today Project NINE was launched at 09:09 this morning. It was a very busy week to make everything ready for this new project. Everyone can now get a website for only €9 per month.
With each Project NINE site, you'll get a great website with a great design, a mobile website and a control panel. Your website will be made up of 4 pages including:
Home,
About Us or Services
Find Us (Map of your business)
Contact Us
Will give more information soon. Till Now check out this new Project here on www.nine.com.mt.
What you missed
Favourite Links