Browsing articles in "Phones and Tablets Platforms"
On Wednesday, Nokia announced a new Windows Phone 8 member at LeWeb 2012 in Paris, the Lumia 620. The entry-level handset has the following specs:
3.8-inch TFT screen at WVGA resolution (800 x 480)
1GHz dual-core Snapdragon S4 Plus processor
512MB RAM
8GB of internal storage
expandable by microSD (up to 64GB cards supported)
5-megapixel shooter with LED flash capable of recording 720p video
Front VGA camera is for those self-portraits
WiFi or WCDMA 3G
NFC & Bluetooth 3.0 taking care of all your sharing and pairing
It also has a "Dual-shot color" Continue reading »
Microsoft's Surface Pro tablet will arrive in Januaryof next year with an $899 price tag. The Surface Pro is the more powerful version of the Surface RT. It features an Intel Core i5 processor and 1080p HD display. The Pro will run the full version of Windows 8, not like the Surface RT which had Windows RT installed. That means it will be able to run all of the legacy Windows apps that a full laptop or desktop has access to — something that the RT version is not capable of.
Included in the price is also a Surface Pen but not a Touch or Type Cover. The tablet includes a USB 3.0 port and a Mini DisplayPort, which can drive a screen of up to 2560 x 1440 resolution. The Pro version is a little heavier and thicker than the RT model, but Microsoft notes that it is still under two pounds and less than 14mm thick.
A 64GB model will cost $899, while a 128GB edition will be available for $999. Which one will you choose?
Windows Phone 7.8, an update that brings several Windows Phone 8 features to users of Windows Phone 7, will launch this tomorrow, November 28, latest rumours have suggested.
The Tonis Tech Blog has claimed its insiders "near the subject" have revealed that the update will bring a new Start screen to Windows Phone 7, along with more colour themes, the ability to transfer files via Bluetooth and an option to keep Wi-Fi open on Nokia phones.
We have previously heard that the update will add the Rooms calendar function, as well as Xbox SmartGlass and the Xbox Music Store. Hopefully tomorrow my Lumia 900 will have the new Live Tiles as in the picture!
Update - Christmas is coming a bit later this year since we'll have to wait for 'early 2013′ to get the 7.8 update. Just tried updating my Lumia this morning, but obviously no updates showed up. Hope the 'early 2013′ means in January not in March or April! We'll wait and see.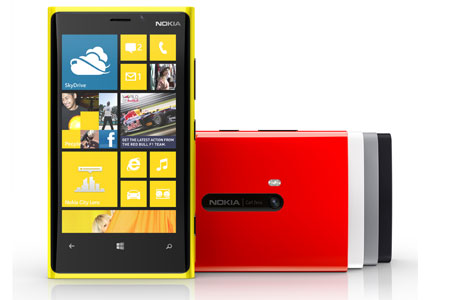 So finally after months waiting, we will finally know what new features the new Windows Phone 8. You can watch the live event here. Next are these new features:
New Live Tiles
You can now resize the live tiles small, medium and large, making more space for tiles
New Lock screen powered by Live Apps
For example Facebook is allowed to update your lock screen where you can be greeted by the latest photo updates
Skype App
Runs always in background and uses really few resources so the battery isn't drained
Terrific video chat
46 out of the top 50 apps will be available on Windows Phone like
Temple Run
Urbanspoon
Angry Birds Star Wars
Jetpack Joyride
Pandora will include a whole year with no ads
Data Sense
Every web page is compressed before sent to the user.
It finds wifi hotspots, prefers wifi against 3G  and helps you manage your data usage.
With data sense on, you can browse 45% more web pages.
Kids' Corner
You can choose which games you allow your kids to play
Swipe left from the lock screen to get to the kids corner
And you can stay quite.. while your children are playing safe games
Kids can custom tile sizes, change app positions
 Jessica Alba is on the stage
She had an iPhone and switched to Windows Phone.. go Jessica
She has an app of her company on Windows Phone
Rooms in People Hub
It gathers a set of people to share the same info together
By default there is the Family Room
Send private messages and share a location
Has a calendar
Share notes
Good for todo lists between different people
It can connect with other platforms, not all of the Rooms experience, but part of it
Photos and Xbox Music
Using SkyDrive you can sync all your photos with all your devices
Xbox Music syncs all your purchased songs automatically without needing to use cables
Now we'll wait for the devices to come out and try
My favourite? The Nokia Lumia 920, pictured above. What's yours?
It's very common to show the current date (i.e., month, day, and year) in different formats. Although you can obtain the current date with Microsoft SQL Server's GETDATE function, getting the returned date in the format you need can take a lot of effort and code. The FormatDate UDF (user-defined function) provides dates in various formats by using the following options: Continue reading »
626 people are now keeping track of their personal and group expenses. Download and keep track of your expenses by getting Expense Box from www.expensebox.net or from the Windows Phone Marketplace.
This app is currently helping Windows Phone users track personal or group expenses, either when going shopping, organizing a party, a school reunion, go on a trip abroad, or simply going for a night out. It will store the payments done by each, and automatically calculates the exact amount of money each have to pay.
Last Sunday I've been using Android all day long, and loved it. My girlfriend has an HTC Wildfire which was very slow, even to write a simple message it would take ages. So I've started the rooting and install procedure to install Froyo (Android v2.3) using Cyanogenmod 7, but I'll post the update procedure in a future post along with the problems to root it!
Anyhow, some of the problems of slowlyness was attributed to the large amount of messages that there were stored on the mobile, but you don't wanna delete them. So we took a backup of her SMSs using SMS Backup and Restore, which is a really good app at what it does. After the update, you could either restore all the messages back to the phone or start clean.
But what about my SMSs? Continue reading »
This is just great.. the new BlackBerry 10 OS will have this amazing feature in the camera application, you can go back in time to get the perfect picture.. check out the video yourself.. it's just amazing
After much waiting, Samsung execs are about to take the stage in London to unveil the next-generation Galaxy device, which will probably be names as the Galaxy S III after the company let the name slip earlier this month… we'll have to wait a few more minutes to find out.
What we know so far?
Samsung already confirmed that the next generation Galaxy device will include a 1.4GHx Exynos quad-core processor.. hmm let's see what else will be revealed
Already an Update… Continue reading »
Finally, after much waiting, Microsoft and Skype announced the much awaited Skype app for Windows Phone, although it's still in Beta. Apparently, compatible devices are the second gen Windows Phones including the Nokia Lumia Family Phones 710, 800 and 900 (and most probably the new Lumia 610 – more details on this one soon). This Beta version will allow free audio and video calls over Wifi or 3g, plus also paid calls. Continue reading »
What you missed
Favourite Links